"Bohemian Rhapsody" Sound Team
confirmed for FEST 2019 industry program
FEST 2019, from June 24th to July 1st, in Espinho, Portugal
John Warhurst, Tim Cavagin and Nina Hartstone are the new confirmations on FEST's 2019's Training Ground. Specialized in the field of sound, together they compose the Academy Award-winning sound team for "Bohemian Rhapsody".
During FEST they will be presenting a Masterclass using the case study of "Bohemian Rhapsody" strategies and work process, focusing, mainly, on the solutions they've created to overcome the challenges created by the production. How to make Freddie Mercury's voice sound genuine, the brain-surgery editing precision required or the custom sounds they had to record (concert crowds, people clapping, piano keys thumping) will be some of the main topics reviewed and dissected by the experts.
Hosting this very special session we will have Eddy Joseph, Sound editor of films such as"Quantum of Solace" , "United 93", "Cold Mountain", "Corpse Bride" and many more
John Warhurst was the supervising music director in the film that earned him the first Oscar win of his career. Warhurst also received a BAFTA for his work on the 2018 film but he was no stranger to this award, having won another in 2013 for his work on "Les Misérables". Some of his major works also include "Sweeny Todd: The Demon Barber of Fleet Street" (2007) and "Three Billboards Outside Ebbing, Missouri" (2017). 
Nina Hartstone is a supervising dialogue/ADR editor that has worked previously with Warhurst in films such as "Lara Croft Tomb Raider: The Cradle of Life" (2003), "Bidget Jone's Baby" (2016).
Tim Cavagin is a re-recording mixer that tops off the trio. Some of his previous works include "The Second Best Exotic Marigold Hotel" (2015), "The Hitman's Bodyguard" (2017) and "Baby Driver" (2017), the latter one resulting in an Academy Award nomination for Best Achievement in Sound Mixing. 
Join us at FEST 2019, from June 24th to July 1st, in Espinho, Portugal.
The 6-day lineup of FEST industry events features: 
Directors' Hub (debates, case-studies, roundtables focusing around the director's role),
Industry Meetings (one-on-one meetings between attending industry professionals), 
Networking Dinners (informal networking between event participants at the dinner table).
Training Ground (30+ masterclasses & workshops by the top film industry professionals), 
Pitching Forum (competition with development support and co-production opportunities),
Filmmakers' Corner (an open stage for filmmakers to showcase and promote their work).
Secure your accreditation for 6 days of films, industry and networking events with our FEST Pro Badge for 100€
FEST is a film forum that offers a wide variety of industry activities, while also promoting and encouraging a strong networking possibilities.
The Industry Meetings, are a platform for one-to-one meetings between industry experts.
Following the same core principle, FEST organizes Networking Dinners, that create an opportunity for networking between film professionals and guest speakers while savouring a delicious meal of Portuguese food and wine, with an ocean sunset view. The Networking Dinners require separate registration and are limited to the first 150 festival participants.
Both the Industry Meetings and the Networking Dinners offer a chance to build the basis for collaborations, partnerships, or new relationships, between film professionals. 
FEST is focused on industry activities - with 800+ accredited attendees coming from over 40 countries, FEST is a unique networking platform for leading film professionals to gather and create meaningful exchange of knowledge and contacts in the presence of internationally renowned industry members. 
Some of our Previous Speakers:
Asghar Farhadi - Director, A Separation, The Salesman | Béla Tarr - Director, Sátántango, Werckmeister Harmonies | Fernando Trueba - Director, Belle Époque, The Girl of Your Dreams | Melissa Leo - Actress, The Fighter, Frozen River | Joe Walker - Editor, Arrival, 12 Years a Slave  | Ed Lachman - DOP, Erin Brockovich, The Virgin Suicides | Allan Starski - Art Director, Schindler's List, The Pianist | Christopher Hampton - Screenwriter, Dangerous Liaisons, Atonement | Roman Coppola - Producer/Screenwriter, Isle of Dogs, Moonrise Kingdom | Iain Smith - Producer, Children of Men, Mad Max: Fury Road | Finola Dwyer - Producer, Brooklyn, An Education | Stephen Warbeck - Composer, Shakespeare in Love, Billy Elliot | David Mcmillan - Sound Mixer, Apollo 13, Indiana Jones and the Temple of Doom | Tom Stern - DOP, The Hunger Games, Gran Torino | Eugenio Caballero - Art Director, Pan's Labyrinth, The Impossible | Martin Walsh - Editor, V for Vendetta, Chicago
Ashgar Farhadi
Director
The Salesman, A Separation
- I feel at home here, I met people who really like film. Thank you so much for inviting me.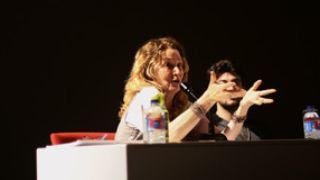 Melissa Leo
Actress
The Fighter, Frozen River
- This festival is doing what is needed to help independent filmmakers gain entry to the world of film.
 
Attend FEST to discover the most promising voices in world cinema, as well as connect and collaborate with leading film professionals from around the globe.